Why, the outfit I wore to the poetry slam but of course. I wore my jean jacket and wrapped my hair. I title this look
"Funky for you"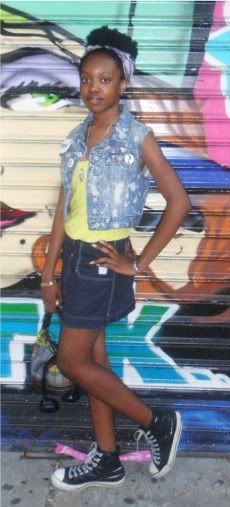 Now let me fully break down this outfit. The yellow top is actually a short strapless dress, which my best friend gave me, tucked into and slightly hanging over my skort. The skort is from nautica. The bag is dooney and burke, and the sneakers are my favorite pair of converses. You already know the story behind the jacket. And the necklace, is a small robot necklace from forever 21. The reason why i tile this look "funky for you" is beacuse I think it is very funky, if you know what I mean. Also that is the title of one of my favorite songs by the rapper Common.:
I hope I've inspired you and your looks !